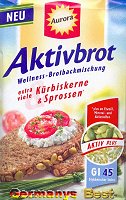 Baking mixture for wheat mix bread. With extra pumpkin seeds and sprouts, only water is needed. Includes an English baking description.
Weight: 500 gr
Size : circa 5 in * 3 in * 2 in
Expiry Period :circa 6 months
Ingredients : Wheat flour, rye flour, rye wholeflour grain, dried sourdough, spelt malt scions, flax seeds, wheat bran, iodized salt, dry yeast, malt extract, soya oil, vitamine folic acid. May contain traces of sesame, dairy- and protein products!
Product Description
Places where you can buy this product: