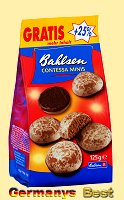 Mini round gingerbread spiced cakes with semi-sweet chocolate.
Weight: 100 gr
Size :
Expiry Period :circa 6 months
Ingredients : Sugar, apricot kernels, wheat flour, glucose-fructose-syrup (wheat), cocoa mass, humectant: sorbitol syrup, cramel syrup, glucose syrup (wheat), invert sugar syrup, cocoa butter, orange peel, dried egg white, whey products, spices, raising agents: disodium diphosphate and sodium bicarbonate, thickener: guar gum, emulsifier: soya lecithin, wheat starch, vegetable fat, flavours and flavouring, acidity regulator: citric acid. Hazelnuts and almonds are also processed on this line.
Product Description
Places where you can buy this product: