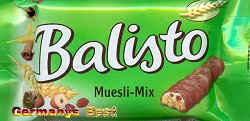 Milk chocolate covered whole wheat crunchy biscuit with raisins and hazelnuts. This box contains 20 double packs.
Weight: 820 gr
Size :
Expiry Period :circa 4 months
Ingredients : Milk chocolate, hydrogenated vegetable fat, sugar, wheat flour, oat flakes, raisins, wholemeal flour, whole cream milk powder, hazelnuts, skimmed yogurt powder, salt, raising agent, emulsifier soya lecithin and flavoring.
Product Description
Places where you can buy this product: