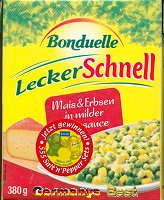 Instant meal corn and peas in a mild cheese sauce. Ready to eat. 1 portion.
Weight: 380 g
Size :
Expiry Period :circa 10 months
Ingredients : Vegetable mix of peas and maize (65%), sauce (35%): water, cream, thickener carrageen, vegetable fat, soft cheese (emulsifying salt e452), milk protein, palm-oil, glucose syrup (from wheat), modified starch, naturel aroma (contains lactose and gluten), salt, thickener (guar flour, carob kernel flour), sugar, emulsifier: fatty acid esters of glycerides (e472), lactose, lemon juice (water, lemon juice concentrate).
Product Description
Places where you can buy this product: