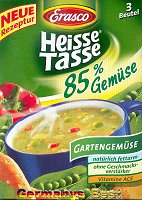 Instant hot cup snack with 85% of vegetable soup with crispy croutons. Makes three cups. Dry product.
Weight: 450 ml
Size : circa 5 in * 3.75 in * 1.25 in
Expiry Period :circa 14 months
Ingredients : 85% vegetable mix (potato, peas, onion, carrot, garlic, spinach, vegetable paprika, celeriac), iodine salt, vegetable fat, sugar, milk sugar, natural spice extracts, flavour (wheat), vitamin A, C, E and folic acid, vegetable fat hardened, milk protein, thickener gummi arabicum, release agent silicium dioxid, antioxidation agent BHA.
Product Description
Places where you can buy this product: