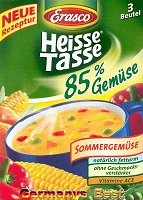 Instant hot cup snack with 85% of summer vegetable soup with crispy croutons. Makes three cups. Dry product.
Weight: 450 ml
Size : circa 5 in * 3.75 in * 1.25 in
Expiry Period :circa 14 months
Ingredients : 85% vegetable mix (potato, peas, onion, carrot, garlic, vegetable paprika, celeriac), iodine salt, yeast extracts (contains barley), glucose syrup, native olive oil extra, vegetable fat, sugar, milk sugar, natural spice extracts, modified starch, flavour (contains wheat), vitamin A, C, E and folic acid, vegetable fat hardened, milk protein, thickener gummi arabicum, emulsifier soya lecithin, colorings riboflavin and parika extracts, release agent silicium dioxid, antioxidation agent alpha-tocopherol and BHA.
Product Description
Places where you can buy this product: