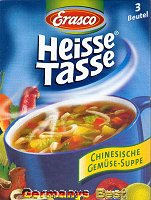 Instant hot cup snack with chinese vegetable soup. Makes three cups. Dry product.
Weight: 450 ml
Size : circa 5 in * 3.75 in * 1.25 in
Expiry Period :circa 14 months
Ingredients : Modified starch, 7% vegetable (carrot, mung beans seedlings, peas, paprika, leek, savoy, mu-err-mushrooms), iodine salt, taste amplifier mono sodium glutamate, guanylat and inosinat, chicken fat, vegetable fat, flavour (contains wheat, celeriac and milk), acidifying agent citric acid, sugar, pineapple, curry, antioxidation agent propylgallat.
Product Description
Places where you can buy this product: