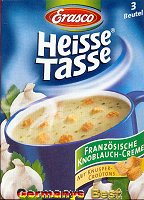 Instant hot cup snack with french garlic cream soup with crispy croutons. Makes three cups. Dry product.
Weight: 450 ml
Size : circa 5 in * 3.75 in * 1.25 in
Expiry Period :circa 14 months
Ingredients : Glucose syrup, modified starch, 6% croutons (wheat flour, vegetable fat hardened, salt, yeast), vegetable fat, 3% garlic, 2% leek, starch, iodine salt, milk protein, taste amplifier mono sodium glutamate, guanylat and inosinat, flavouring (contain celeriac), parsley, beef extracts, yeast extracts, sugar, beef fat, coloring beta-carotin.
Product Description
Places where you can buy this product: