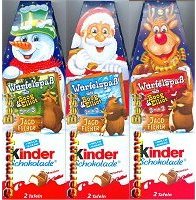 2 bars of whole milk chocolate with an extra serve of milk. Comes with a card game on the back of the box! Three different designs!
Weight: 200 gr
Size : circa 6 in * 3 in
Expiry Period :circa 5 months
Ingredients : Whole milk chocolate 40% (sugar, whole milk powder, cocoa butter, cocoa mass, emulsifier soya lecithin, vanillin), sugar, skimmed milk powder, vegetable oil, butterfat, emulsifier lecithin, vanillin.
Product Description
Places where you can buy this product: