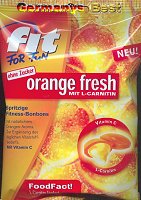 Fruity filled orange bonbons with vitamin C and L-Carnitin. Without sugar.
Weight: 95 gr
Size : circa 4.5 in * 6 in
Expiry Period :circa 14 month
Ingredients : Isomalt, maltit syrup, sorbitol syrup, L-Carnitin, acid agent: citric- and wine acid, vitamin c, natural blood orange flavourings, plant extracts for colorings, sweetener acesulfam K. Can have an abstergent effect by an excessive consumption!
Product Description
Places where you can buy this product: