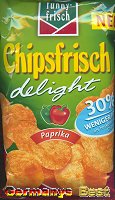 The original mixture of herbs and roasting in vegetable oil give these chips the typical Hungarian flavour. With 30% less fat.
Weight: 150 gr
Size : circa 11 in * 6 in * 2.5 in
Expiry Period :circa 3 months
Ingredients : Potatoes, vegetable oil, flavourings (with paprika powder, flavour enhancer: monosodium glutamate, onion powder, garlic powder, colour: paprika extract, spice extracts).
Product Description
Places where you can buy this product: