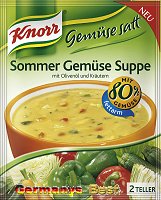 Summer vegetable soup with olive oil and herbs. Dry powder.
Weight: 65 gr
Size : circa 5 in * 6.2 in * 0.5 in
Expiry Period :circa 8 months
Ingredients : 80 % Vegetable mix (potatoes, corn, white cabbage, celery, paprika, onion, pumpkin, peas, leek, white carrots, cauliflower, carrots, zucchini), iodize food salt, vegetable fat, sugar, virgin olive oil extra, lactose, yeast extract, milk protein, starch, herbs (chive, chervil), spices (white pepper, curcuma), white wine extract, coloring paprika extract, acid agent citric acid, spices extract, antioxidant ascorbylpalmitat.
Product Description
Places where you can buy this product: