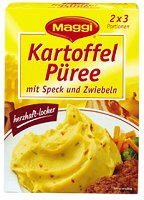 Instant mix for mashed potato with bacon and onions. Makes 2 x 3 serves.
Weight: 180 gr
Size : circa 7.25 in * 5.25 in * 2.5 in
Expiry Period :circa 12 months
Ingredients : Potatoes, 5% of bacon (smoke), roastonions, bacon fat (smoke), parsley, spice extracts, iodate wheat flour, emulsifying agent mono-and diglyceride of cooking fat acids, anti-oxidation agent (ascobin acid, sodium metabisulfat).
Product Description
Places where you can buy this product: