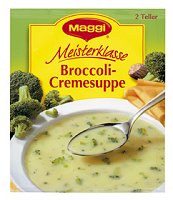 Instant broccoli-cream soup. Makes 0,5 liter.
Weight: 51 gr
Size : circa 5 in * 6 in
Expiry Period :circa 12 months
Ingredients : Modified starch, vegetable oil (hardened), skimmed milkpowder, cream powder (13.9%), iodate, broccoli (5.6%), (flavour agent) mono sodium glutamate, cauliflower powder, maltodextrin, grape sugar, roasted onionpowder, spices, yeast extract, aroma (with soy, wheat), (thickener agent) guarflour, emulsifying agent E472e (fatty acid esters of glycerides ), (anti-oxidation agent) ascorbylpalmitat, alpha tocopherol. May contain traces of eggs, celery and mustard.
Product Description
Places where you can buy this product: