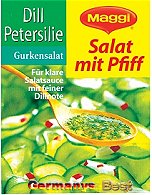 5 bags of instant salat dressing mix with garden herbs. Dry powder.
Weight: 60 gr
Size : circa 4 in * 3 in
Expiry Period :circa 8 months
Ingredients : Iodize table salt, sugar, starch acidifiying means (citric acid, sodium diacetate), 6 % herbs (parsley, dill), spices (onion, curcuma), taste ampifilier monosodium glutamate, aroma (with mustard), lactose, sun flower oil, spice extract (with celery), thickener xanthan. (Traces: egg, soy, wheat).
Product Description
Places where you can buy this product: