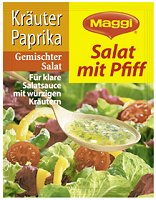 5 bags of instant salat dresssing mix with paprika herbs.
Weight: 61 gr
Size : circa 4 in * 3 in
Expiry Period :circa 8 months
Ingredients : Sugar, iodate, strong, acid agent (citric acid, sodium diacetat), spices (onions, garlic, curcuma), (flavour agent) mono sodium glutamat, 5.5% of herbs (parsley, dill, chive), 3% of red paprika, lactoses, aroma (with mustard), sunflower oil, thickener agent xanthan. May contain traces of eggs, soy, celery and wheat.
Product Description
Places where you can buy this product: