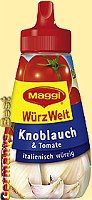 Easy spicing for an italian flavour experience with garlic and tomato.
Weight: 120 ml
Size :
Expiry Period :circa 8 months
Ingredients : Wetting agent glycerin, 22,7 % tomato puree (simple concentrate), iodized salt, sugar, spirit vinegar, garlic (5,8%), onion mash, spices extractes, salt, herbs, spices, thickener xanthan. (Traces: wheat, egg, soy, milk, celery, mustard).
Product Description
Places where you can buy this product: