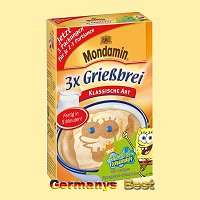 Instant mix for semolina pudding classic type for 3x 500 ml. With a pattern of spongebob. Dry powder
Weight: 321 gr
Size : circa 7.2 in * 5.2 in * 1.1 in
Expiry Period :circa 5 months
Ingredients : 48% hard wheat semolina, starch, sugar, (thickener agent) xanthan, emulsifying agent mono- and diglyceride of cooking fat acids, flavourings, milk sugar.
Product Description
Places where you can buy this product: