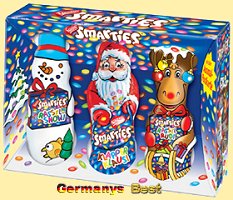 Delicate milk chocolate filled with smarties.
Weight: 100 gr
Size :
Expiry Period :circa 6 months
Ingredients : Sugar, cocoa butter, whole milk powder, cocoa mass, hazelnut paste, wheat flour, butterfat, whey product, lactose, skimmed milk powder, emulsifier (soya lecithine, polyglecerin-polyricinoleat), wheat starch, colring material riboflavin (e101), cochenille (e120), copper complexes of chloropyll and chlorophyllins (e141), vegetable carbon (e153), carotene, alpha-, beta-, gamma- (e160a), titanium dioxide (e171), aroma, salt, carnaubawax, beeswax, beetroot juice concentrate. (Traces: peanuts, other nuts, soy).
Product Description
Places where you can buy this product: