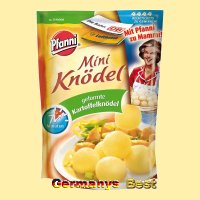 Instant dumplings with potatoes and herbs. Ready in 7 minutes. 20 peaces.
Weight: 400 gr
Size : circa 9 in * 6 in * 2 in
Expiry Period :circa 5 months
Ingredients : Potatoes, modified starch, vegetable fat, wheat starch, albumen powder, table salt, rice flour, sugar, aroma (with milk, celery), preserving agent potassium sorbat, spices, herbs.
Product Description
Places where you can buy this product: