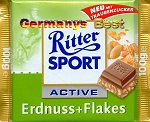 Milk chocolate with chopped peanuts and corn flakes.
Weight: 100 gr
Size : circa 3.6 in * 3.6 in
Expiry Period :circa 6 months
Ingredients : Sugar, vegetable oil, dextrose, chopped peanuts, powdered cream, corn flakes, cocoa mass, skimmed milk powder, whey powder, lactose, butterfat, emulsifier soya lecithin, flavour vanillin. May contain traces of peanuts, other nuts and wheat.
Product Description
Places where you can buy this product: