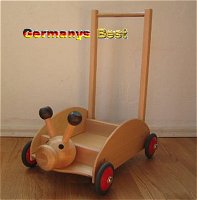 Quality wooden toy for toddlers
Weight: 3500 gr
Size : circa 20.8 in * 19.2 in * 12.8 in
Expiry Period :
Ingredients : This vehicle comes in a cute beetle design. Toddlers can learn to walk with this toy and use it as a transport vehicle later. Can be loaded with toys etc. The wheels are quiet and therefore "neighbor freindly". Suitable for indoor and outdoor use. 20.8 inches high. Manufactured with the best of ply wood and compliant with the European standard EN 71.
Product Description
Places where you can buy this product: