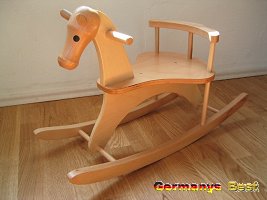 Quality wooden toy for toddlers
Weight: 6500 gr
Size : circa 29.2 in * 20 in
Expiry Period :
Ingredients : Every child wants a typical rocking horse like this! Completely made from wood, with a friendly and inviting nature. A rocking horse belongs in every child's room! Suitable for children aged 0,5 – to 5 years. Height of seat 9.6 inches. Manufactured with the best of ply wood and compliant with the European standard EN 71.
Product Description
Places where you can buy this product: