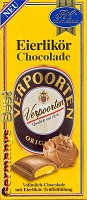 Milk chocolate filled with egg liqueur truffle filling
Weight: 200 gr
Size : circa 7 in * 3 in * 1.25 in
Expiry Period :circa 6 months
Ingredients : Sugar, cocoa butter, egg liqueur 60% in truffle filling (sugar, alcohol, egg yolk, distillate, egg white), glucose syrup, whole milk powder, cocoa mass, whey powder, agar (thickener), soya lecithin (emulsifier), flavourings. May contain traces of pistachios, almonds and hazelnuts. Not suitable for children !
Product Description
Places where you can buy this product: