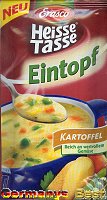 Instant hot cup snack with hotpot potato soup. Makes one cup. Dry product.
Weight: 220 ml
Size : circa 6.5 in * 3.5 in
Expiry Period :circa 14 months
Ingredients : 65% vegetable (potato flakes and – pieces, carrots, onion pieces and powder, peas, porree), potato starch, salt, acidifying citric acid, iodine salt, sugar, yeast extracts (contains barley), vegetable fat, parsley, flavour (contains celeriac), vegetable fat hardened, milk protein, wheat flour, thickener gummi arabicum, release agent silicium dioxide, emulsifier soya lecithin and mono diglyceride of table fat acids, sodium acetate and calcium lactat, coloring riboflavin.
Product Description
Places where you can buy this product: