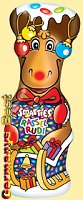 Delicious milk chocolate filled with smarties.
Weight: 100 gr
Size : circa 6.8 in * 2.4 in
Expiry Period :circa 6 months
Ingredients : Sugar, cocoa butter, powdered milk product, cocoa mass, hazelnuts, wheat flour, butterfat, whey product, lactose, emulsifier, colors, wheat starch, flavor, salt, carnaubawax, beeswax. May contain traces of peanuts and almonds.
Product Description
Places where you can buy this product: