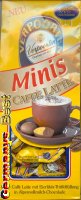 Mini milk chocolate eggs filled with egg liqueur truffle and caffe latte-milk cream. Not suitable for children!
Weight: 110 gr
Size : circa 7.8 in * 3.2 in * 2.2 in
Expiry Period :circa 9 months
Ingredients : Sugar, cocoa butter, egg liqueur (75 % in egg liqueur-truffle filling), whole milk powder, cocoa mass, condensed milk, coffee cream, coffee butter, humectant: (sorbitol, invertase), brandy, whey powder, thickener: agar-agar, emulsifier: soya lecithins, flavouring. May contains traces of pistachios, almonds and hazelnuts.
Product Description
Places where you can buy this product: